Help
/
crm
SugarCRM integration guide
Connect Olark with SugarCRM, a customer relationship management (CRM) system that features sales automation, marketing campaigns, customer support, collaboration, Mobile CRM, Social CRM and reporting.
Go to your SugarCRM integration page.

Enter the details of your SugarCRM account. The URL should be the address where we can reach your SugarCRM. Add the username and password of one of the SugarCRM administrators and click Save. You're all set!
Once connected, you can send a test case at any time with the click of a button inside the configuration area:

Creating cases
Enter the !sugarcrm commandswhile chatting to create leads in SugarCRM manually, or select the option to Send all transcripts to have all conversations sent automatically.
Here's how a case might look: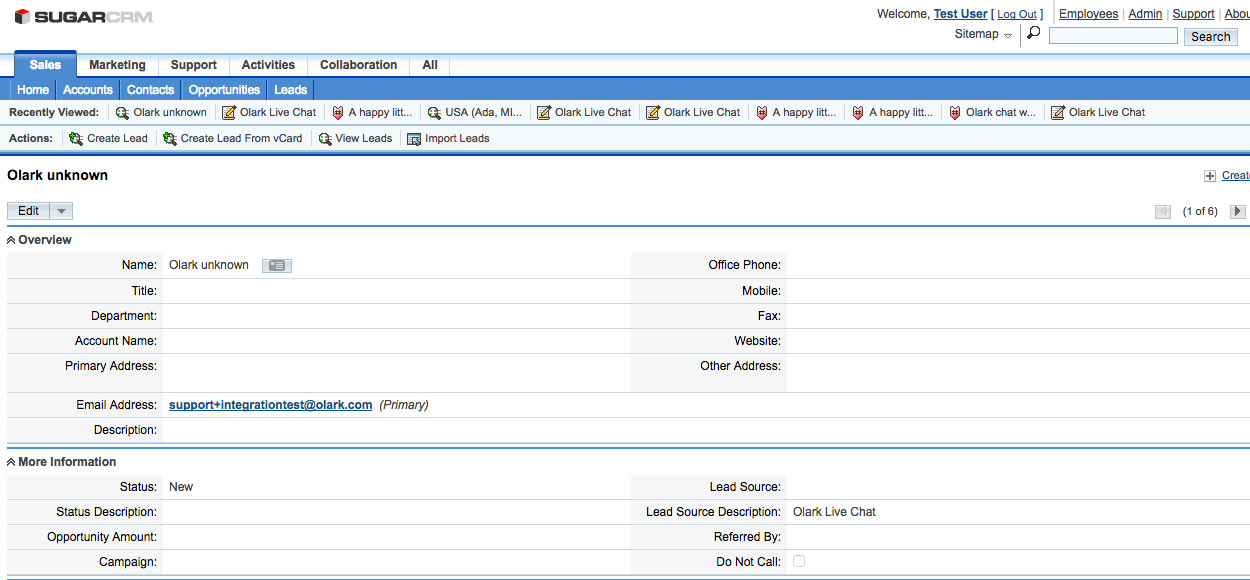 Olark will try to match the visitor's email address to an existing lead. If there isn't an existing email, a new account will be created. The chat transcript will be added as a note to the lead. Where possible, Olark will try to assign the lead to the agent with the same email address.
SugarCRM fields
Here is a list of the fields we send to SugarCRM
visitor_email
visitor_name
visitor_phone_number
operator_id (we attempt to attach the ticket to the email address of the agent currently taking the chat. If that's not possible, we send it as an unassigned ticket)
last_name
lead_source (constant: "Web site")
lead_source_description (constant: "Olark Live Chat")
transcript (the content of the chat transcript or offline message)