Help
/
features
Olark for mobile
Your visitors can chat with you from their mobile devices with the Olark chatbox. This article will go through a few common questions we get about our mobile offering.
FAQ about Olark for Mobile
How can I disable/enable the mobile chatbox?
The chatbox can be disabled or enabled from the Design settings page. By default every new account has mobile enabled.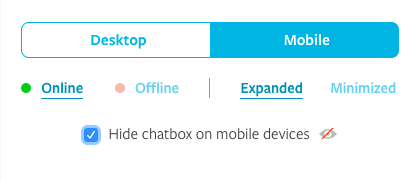 What browsers do we support for mobile?
Check out our Browser Support Page to see what browsers we support for mobile and desktop.
Will my Attention Grabber show?
No. If an account has an Attention Grabber enabled, it would only appear on the desktop theme.
Can I use an inline chatbox on mobile?
No. The inline chatbox will only work on desktop sites.
Do API calls still work with mobile?
Yes, all api calls work with mobile as expected.
I have a free plan, can I use the mobile theme?
Yes, all plans can use the mobile theme.