Help
/
features
Live Chat Translation PowerUp
The Live Chat Translation PowerUp is designed to give chat agents the ability to communicate with visitors from around the world.
The Live Chat Translation PowerUp is available for purchase in the PowerUp store.
How to Use the Live Chat Translation PowerUp
After purchasing the PowerUp, you will see two dropdown menus in each new conversation window in your chat console.

Translating visitor chats
When a visitor comes to chat in a language you are not familiar with, simply use the dropdown labeled "TRANSLATE VISITOR TO" to select a language in which you would prefer to read all incoming chats from this visitor.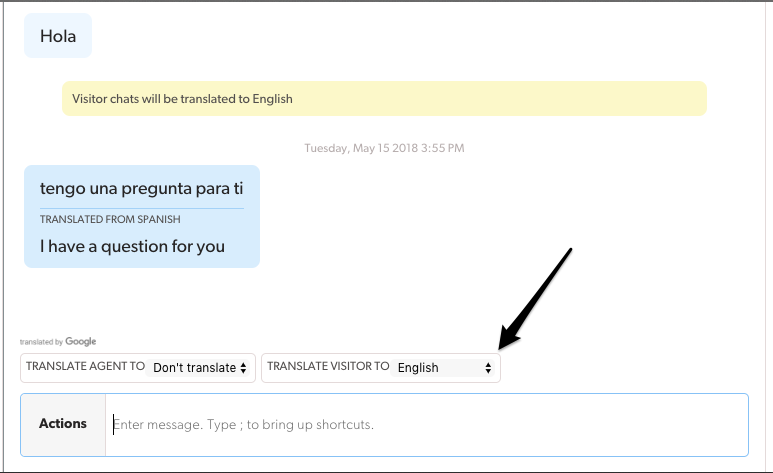 Translating agent chats
In the example above, we see that the Live Chat Translation PowerUp has translated the message to English based on user selection within the drop down menu. We can also see from the above example that the message the user sent was detected by the Live Chat Translation PowerUp as Spanish. To translate all outgoing agent messages to Spanish, the agent will now use the dropdown labeled "TRANSLATE AGENT TO".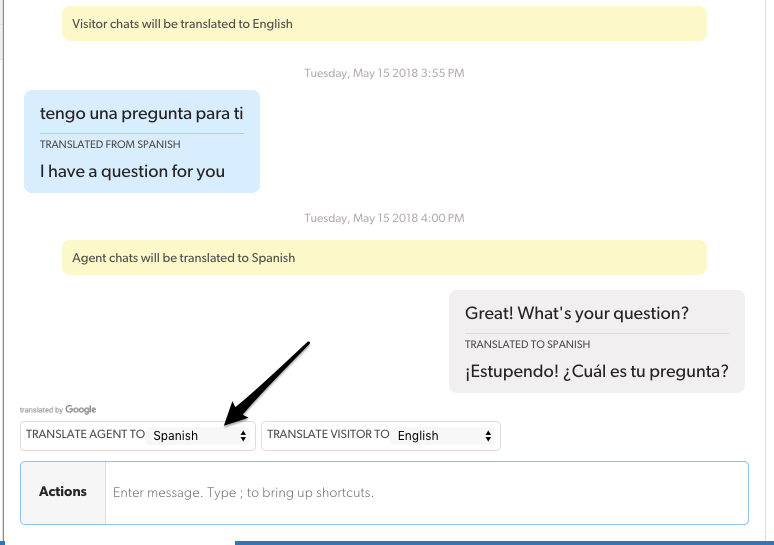 Adjusting translation settings
Live Chat Translation is designed to give agents flexibility as they navigate conversations in different languages. In particular:
You can change or turn off incoming or outgoing translations at any time by selecting new options from the dropdowns.
Changing languages in mid-conversation will not disrupt your chat, and your new selections will not affect previously sent messages.
Translation settings apply only to the current chat; if you are handling more than one chat a time, you can translate one chat without affecting others.
What does my visitor see?
Visitors will see a notification that their chat is being translated with Google's translation API, but they will not see original untranslated agent messages or translated versions of their own messages.
How do translations look in transcripts?
Transcripts reflect the visitor's view of the chat. If agent messages have been translated, the transcript will not show the original text; likewise, if the visitor's messages have been translated, the transcript will only contain the original untranslated versions.
Legal Disclaimer
THIS SERVICE MAY CONTAIN TRANSLATIONS POWERED BY GOOGLE. GOOGLE DISCLAIMS ALL WARRANTIES RELATED TO THE TRANSLATIONS, EXPRESS OR IMPLIED, INCLUDING ANY WARRANTIES OF ACCURACY, RELIABILITY, AND ANY IMPLIED WARRANTIES OF MERCHANTABILITY, FITNESS FOR A PARTICULAR PURPOSE AND NONINFRINGEMENT.
By enabling this PowerUp, you agree not to use it on any website or user interface that contains or displays adult content, promotes gambling, promotes violence, contains hate speech, involves the sale of tobacco or alcohol to persons under twenty-one years of age, violates other applicable laws or regulations, or is otherwise objectionable.
We encourage you to consult your legal advisor about any additional disclaimers you may wish to post on your own site when using the Live Chat Translation Powerup. More information is available here.
Was this article helpful?