Help
/
sales-marketing-integration
Hubspot integration guide
There are two different ways to integrate Olark and HubSpot: You can put Olark's chatbox on your HubSpot-hosted website, or send Olark chat transcript info to HubSpot's contacts on their timeline.
To send transcript info to HubSpot:
Login to Olark and visit the HubSpot configuration page in our Integrations section.

Click the Authenticate button and you'll be redirected to HubSpot. If you're not already logged in, enter your username and password to login to HubSpot. You'll then be redirected back to Olark with an active connection to HubSpot.

Congrats! You're now ready to send transcripts to your HubSpot account. You can have them sent automatically or use the !case command while in chat to create cases individually.
Fields we send with the transcript to HubSpot:
Agent name
Referral URL
Transcript URL
Visitor email
First page URL
Transcript Tags
To place an Olark chatbox on your HubSpot-hosted website:
Copy the Olark install code from your Install page.

Log into HubSpot as the account admin and paste your Olark install code into the "body footer html" in your website settings as described here: Hubspot Help Pages - Adding Custom JavaScript. There is an additional guide from Hubspot here, if you have trouble adding the code.

Save your changes and you're ready to chat! You should see the Olark chatbox displaying on your HubSpot pages. You can chat with your visitors using the Olark chat console or connect your chat client to Olark.
Protip:
When using Hubspot Marketing, if you want to trigger on activities created by the Olark Hubspot integration for your workflow, you can use the following enrollment criteria: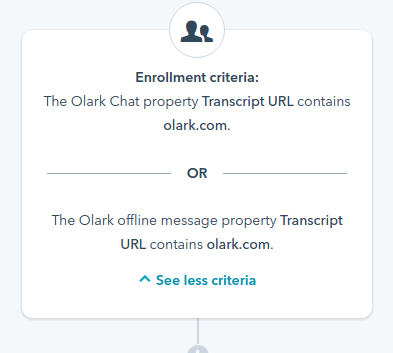 Was this article helpful?