Help
/
targeted-chat
Block an IP Address
Sometimes it's useful to be able to block a certain visitor. Whether it be your development team and colleagues that have no need to chat with you or a persistent troll distracting your support team, we have you covered.
This guide will show you how to block a visitor by their IP address. Creating this Automation Rule will hide the chat box from the blocked website visitor.
Navigate to your Automation page.
Click New Rule and name your new rule.
As your WHEN condition choose Agents are either available or unavailable to chat.
Choose Visitor's IP from the pulldown menu in the IF section and enter the IP address. You can add as many IP addresses to this Automation Rule as you need.
As the THEN action select once per page load.
Choose Hide the Olark chat box from the pulldown menu in the Actions section.
Click Save Rule.
Your rule when finished should look something like this.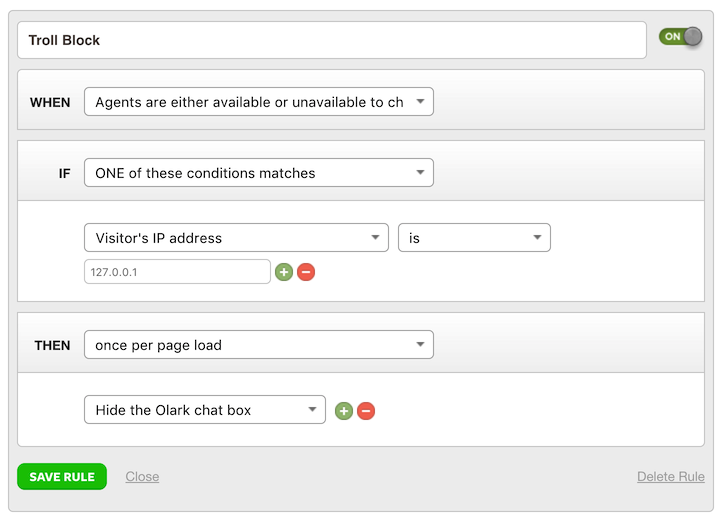 Please note that IP addresses can only be revealed by clicking on Reveal IP address in the Additional Info section of your chat console. You'll only be able to obtain a visitor's IP address while they are chatting with you and not after the conversation.
Full information on how and why we manage IP addresses the way we do is available here.
Was this article helpful?