Franklin University uses Olark's CoPilot and Slate integration to answer admissions questions 24/7
How the institution communicates quickly and effectively with worldwide applicants
Franklin University is a private nonprofit institution located in central Ohio, with a focus on the post-traditional student. Most of their students are also in the workforce and often returning to school to finish their degrees. The institution offers undergraduate, masters, and doctoral programs, serving about 6,000 students total. While Franklin does have a physical campus, almost all students (about 90-95%) attend completely remotely. Effective website communications are critical.
"With our online presence, we have students from just about every state in the country, plus across the globe. So being able to communicate effectively in methods other than traditional phone calls is huge for us," noted Mike Uniacke, Associate Director of Admissions Systems and Operations at Franklin University. Pre-Olark, Franklin typically handled applicant and student communications via phone calls and emails. Their senior vice president had advocated for website chat for a few years, with the goal of communicating efficiently in a preferred channel. When Uniacke and the team began the chat search, they also sought out a tool that would help 1) reduce call center load and 2) provide communication access during off-hours, especially important for their visitors in different timezones.
Uniacke recalled that from day one of their interactions, Olark's customer service was "nothing short of phenomenal," which stood out from other chat vendors they talked to. The simplicity of the core live chat product also appealed to the team, providing a streamlined tool that met their needs without unnecessary bells and whistles. 
CoPilot, the Olark Pro chatbot, provided an attractive option both for 24/7 communication and a way to free up advisor and call center time by answering straightforward questions (while also providing a smooth escalation to Olark live chat when needed during business hours). Finally, a chat-Slate integration was high on Uniacke's list, to pull in chat transcripts and provide a full view of students within their customer relationship management (CRM) solution. An Olark-Slate integration fit the bill. The university selected Olark enthusiastically and recently passed their one-year anniversary as customers.
Organization
Franklin University is a private nonprofit institution with a focus on the post-traditional student.

Location
Ohio, USA
Approach
Franklin University uses Olark primarily in their admissions department at all academic levels. Their call center and welcome center also use chat to field questions from continuing students. In total, they have about 23 agents active in Olark, averaging about 10-12 chats per day.
Key Olark features used:
Pro Feature: CoPilot
The Olark Pro chatbot is featured on Franklin University admission pages and offers 24-hour service. That means visitors in different timezones (very common for Franklin) or same timezone visitors who need to communicate after work can always access a helpful resource. During business hours, CoPilot can also hand off directly to a live agent if it's needed.
Uniacke worked with the Olark team to set up CoPilot to their specifications. He described the experience as a collaborative and iterative process. Uniacke recalled, "Right at the beginning, we were advised—and I agree wholeheartedly—keep it simple. See what your customers are asking before building out a very large and complicated process. I think getting that advice from the beginning helped to frame what we were trying to accomplish with CoPilot. Then we were able to get a little bit more advanced, iterative, and take steps to evolve it."
To gather specifics, Olark provided a series of "homework" questionnaires to help frame the process. These captured Franklin's exact desired wording. Then, they collaboratively mapped question trees in Figma flowcharts, focusing on Franklin's target audience of shoppers and applicants. A few examples of key areas include tuition, schedules of classes, financial aid, and academic program offerings. Afterward (and following a few expansions), Uniacke tested each question "branch" they had built before launching. Olark Pro customers have the option of adding to or modifying their CoPilot instance at any point with the support of Olark.
CoPilot can unblock shoppers and applicants with quick answers at all hours. Uniacke shared, "One of the big questions that we get is, what's our FAFSA code? So when students are filling out the FAFSA, they can just quickly get that information." Overall, their most common questions are around program offerings, tuition, and start date. The chatbot also frees up time for advisors and the call center, giving them more time to manage complex inquiries. "The questions that [advisors] are getting now are more: 'I have this type of transfer credit coming in.' Or 'Here's my work experience, here's my life experience, is this a good fit?' Or 'Will this program help me get to this goal?' Some of those types of conversations that they would more typically have over a phone are happening through chat," Uniacke explained.
Although CoPilot is primarily set up for applicants and only available on admission pages, current students do sometimes find their way to the chatbot too. For those students, Franklin has set up a branch with the most common questions, including class start, registration, and billing.
Pro Feature: Olark-Slate Integration
Franklin University uses Slate to track their student lifecycle, from RFI/inquiry through alumni. Their Olark-Slate integration is set up to automatically send Olark live chat and Olark CoPilot transcripts directly into Slate. Slate matches name and email to attach to a current record, or if none exists, it creates a new prospective student or applicant record. Franklin also set up a Slate rule to notify advisors about a missed chat or a followup request.
All staff members—regardless of whether they use chat—can see the full picture of student communications. If a student uses CoPilot before chatting with an advisor, they can also view that transcript in Slate. The institution has plans to expand Olark more into the continuing student side, and their Slate integration will help seamlessly capture these insightful chats when they do.
Pro Feature: Account Management & Premium Support
As an Olark Pro customer, Franklin University also has access to priority, same-business-day support. Uniacke remarked, "There's honestly a running joke in the department that you guys over at Olark are my favorite coworkers. And I don't know how my boss or my coworkers like that! The level of support we get being a Pro customer is, from my perspective, one of the main reasons we chose Olark. Knowing that if something breaks or doesn't look right, we can reach out to Lindsey and within the day we typically have a resolution. Or if we need something updated, it's usually updated that day. And it's always with a smile and an 'Absolutely, let's get it done.' It's been invaluable."
Groups
Olark groups allow organizations to assign agents to custom groups for smooth team management. Franklin has groups for undergraduate, graduate, and doctoral teams, and their welcome center. All advisors at the university log into Olark first thing in the morning and are randomly assigned to chats based on their group, in a round-robin style. These assignments create a participatory environment where all agents are on deck in chat at the same time.
Transcripts
Whether a live chat or a CoPilot chat, Olark saves a transcript of every chat. With their Slate integration, Franklin team members can quickly see a student's conversation history on their record. Staff can also view chat transcripts directly from the Olark console.
Shortcuts
Olark live chat offers the ability for agents to pre-save responses and call them up in just a few keystrokes. A Shortcut can be anything from a common answer to a meeting link to a greeting. Uniacke noted, "Probably the number one thing I've heard recently is how easy to use and how much of a time save it is to use Shortcuts and folks are starting to create them very frequently on their own." Fun fact: a Shortcut can also be modified before it's sent.
Reporting
Within the Olark dashboard, agents can view and modify several reports, including agent activity, chat ratings, and Google Analytics views. They can also set up auto-emails of the reports at desired intervals. Uniacke reviews Olark reports regularly and shares with leadership so they can be aware of chat volume and agent availability. The institution also uses the reports for coaching opportunities, like sharing the benefits of chat.
Results
Franklin University now has a quick, effective 24/7 answer service to basic questions for their all-hours shoppers, applicants, and students in Olark's CoPilot, with a seamless handoff to advisor live chat as needed during business hours. On average, CoPilot handled conversations alone about 72% of the time. In Franklin's first year with Olark, CoPilot saved 93 hours of live agent time, and is sure to save much more in the years to come!
Franklin University has regularly seen students apply and sign up for classes after initiating a chat on the website. In general, advisors have a higher quality and complexity of chat with applicants and students because many of the basic questions are filtered through CoPilot. Advisors are also able to gain a more comprehensive picture of what students are interested in by viewing their chats in context via their Slate integration and are then better able to help them. Uniacke noted that some of these topics are more likely to surface in chat than in an average phone call or email. On the staff side, the quality of life for advisors has also gone up. They don't feel they are answering the same questions over and over, which has led to greater positivity in their work.
At the year mark, the institution is looking into tracking metrics for call center savings and other quantitative key performance indicators. For now, they are observing various qualitative measures of success. Uniacke remarked, "I don't think a day goes by where I don't read through a transcript and then I check in on them in Slate and they've applied, they've got a registration appointment scheduled, they're moving through the process. We've had some folks that have gone cold, and then interacted with chat, and that's restarted their drive to get enrolled. To me, seeing that happen is a big sign of success."
Conclusion
Franklin University has observed CoPilot and live chat helping every day to streamline the process for many applicants, while freeing up advisors for more complex and relationship-building inquiries. Their Slate integration captures all chat conversations in visitor profiles and provides a rich picture of interaction history that advisors can draw from.
For this almost entirely online university with a global student population, the ability to provide fast and accurate answers and meet applicants where they are has been invaluable. And there's more to come: the university plans to integrate chat into their student portal to support current students and also to set up Slate to send information back into Olark for even more context during chats.
Uniacke noted that one of their biggest wins was simply finding a chat solution that met their needs! "Having a chat solution had been on our SVP's shortlist for a very long time. And we weren't able to implement one until Olark came along," he said.
An Olark student success story that Uniacke shared brought home the reason for their efforts: "One of the very first chats we had was a shopper who was looking for a grad program. I looked at the transcript and then followed them all the way through Slate. They interacted with CoPilot. They escalated to an advisor. Within an hour, they submitted an application. And then, within, I'd say, two days they were enrolled in classes in their grad program. It was a fantastic example of everything working as intended, as hoped. And now that student is working towards their MBA."
Wondering if Olark is right for your organization?
Schedule a call with one of our consultants: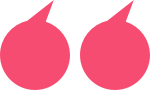 "If Olark fits what you're trying to accomplish, it's absolutely a great product. I think it's got everything that a higher education institution needs to connect with their constituents or their pipeline of prospective students, and there aren't any add-ons required. I think it's a great solution for the higher education world."
Mike Uniacke,Associate Director of Admissions Systems and Operations
Join these organizations using Olark: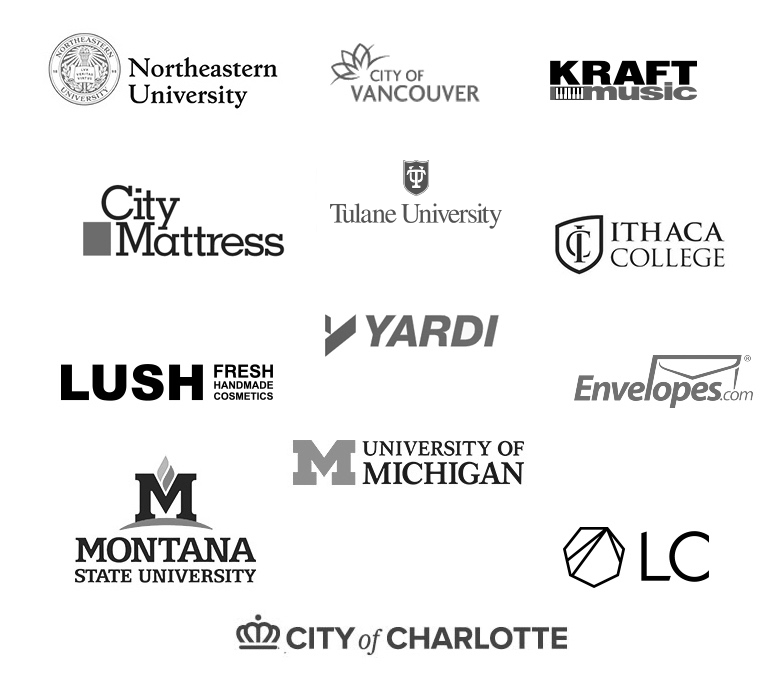 Your next customer is on your website. Talk to them.