Hi we're Olark!
You just came from one of our chat boxes.
Olark is easy-to-use live chat software that lets you talk to customers on your website.
Go back to previous website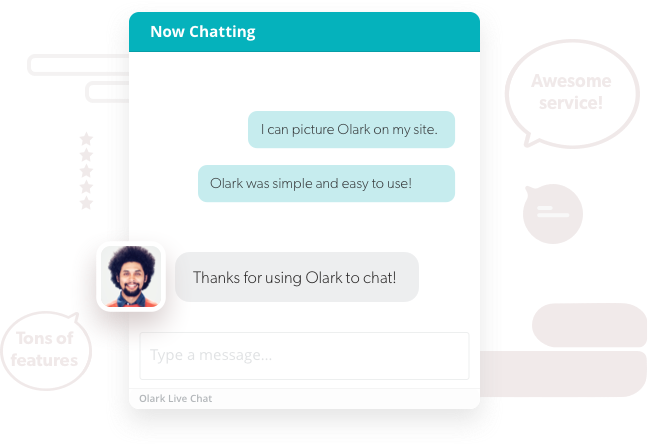 How can we help grow your business
Increase sales
Talk to your customers before they buy. Olark live chat for websites can help increase sales:
Provide support
Reduce phone and email volume and increase customer happiness with the Olark live chat app:
Acquire leads
Have your Sales Development Reps (SDRs) use live chat to add more leads to the sales funnel:
Premium features
Transcripts
Chatting with your customers provides qualitative data, product feedback, and insights you can use to strengthen your sales, marketing, and product initiatives.
Reporting
Olark provides real-time reporting on chat volume, which agents are handling the most chats, and how your customers are rating their chat experience.
Shortcuts
Save time and increase accuracy with shortcuts for common replies, while still having the opportunity easily edit and keep the human in chat.
Automated Messages
Easily automate messages based on a visitor's behavior on your site, serve the right message at the right time without being everywhere at once.
Agent Groups
Send your chats to the right teams: sales, support, product specialists and more - helping your customers get the solutions they need, faster.
Integrations
Olark works with some pretty great sales, marketing, and support platforms, because we think chat data should be an integral part of your process.
Unlimited Chats
There's no limit to the number of conversations you can have each month, and no added cost if your chat volume is higher than usual.
Chat Ratings
Learn more from your chats with customer feedback through chat ratings. Easily find chats that need follow-up, and ones that hit it out of the park!
Chatbox forms
Whether you're using chat for sales or support, our customizable pre-chat survey allows you to set up questions that your visitor fills out to start a chat.