Help
/
setup
Tips for new operators
Getting started as an operator is as simple as typing a message and hitting return. Here's a few quick tips to make your life easier.
First, we recommend checking out our Operator Handbook for the most up-to-date info about all of our features and how to chat as an operator with Olark.
Get To Know Your Buddy List
Your buddy list is a beautiful thing- it lets you see all the visitors on your site, right now. Talking to them couldn't be easier, just double click on one and it will bring up a chatbox where you can type in stuff. It will show your message to that visitor on your site.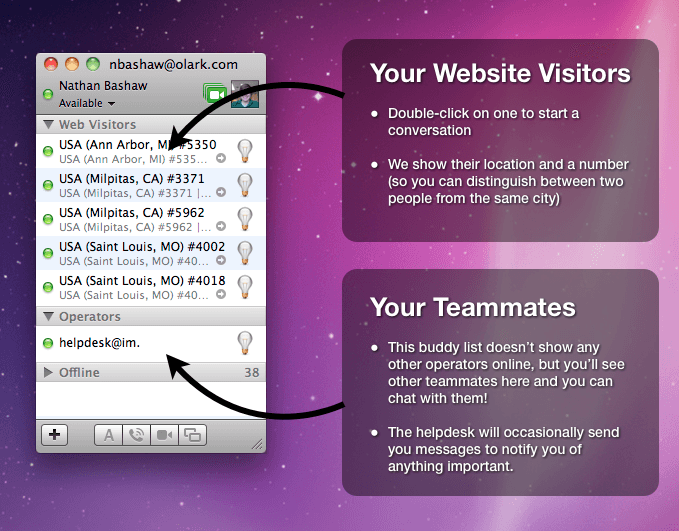 Allow Visitors To Chat With You
Your instant message client lets you set your status to "available" and "away". When you're available, Olark lets your website visitors initiate conversations with you. If your status is set to "away", you will appear offline to your website's visitors. If you have Olark set to be hidden when you're offline, the Olark box will not appear on your website when you are away.
Transfer Your Conversation To Another Operator
If you have multiple operators online, and you want to have another person take over a conversation for you, just type !transfer into your chat box, followed by a message you want all the operators to see. For example, if you are in sales and someone you're talking to has a support question, and you want to transfer the conversation over to Jim in the customer support department, you might type the following message into your chatbox: !transfer Hey Jim, this guy has a support question. All your operators will see the message (right now we don't let you transfer a conversation to a specific operator), but you can let the message instruct the right person to answer the chat. For more information on other Olark Commands, check out the help article.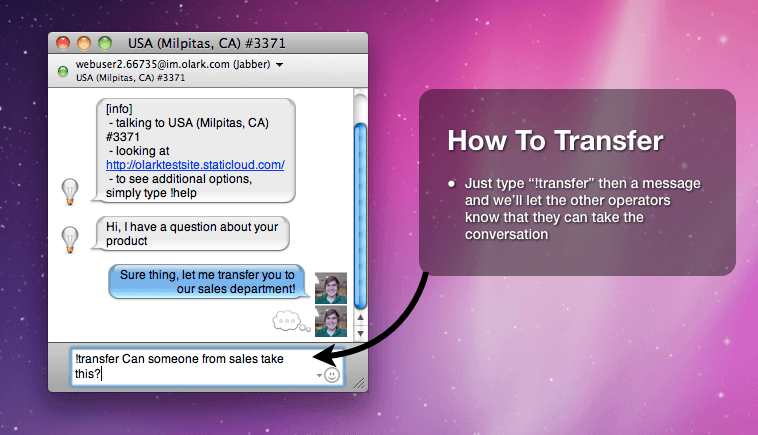 Limit New Chats (Without Ending Current Ones)
If you're feeling overwhelmed, just change your status to "away". It will let you continue your existing conversations, but blocks any new ones from coming through. Once you've got everything under control, set your status back to "available" and you'll be able to receive new chats.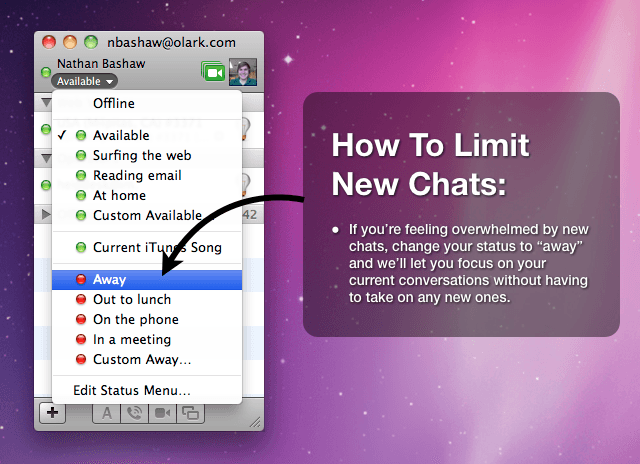 Block Abusive Chatters
If you type !block into your chatbox where you would normally type a message to that visitor, you'll block that person from talking to you ever again. Sometimes this one comes in really handy. For more information on other Olark Commands, check out the help article.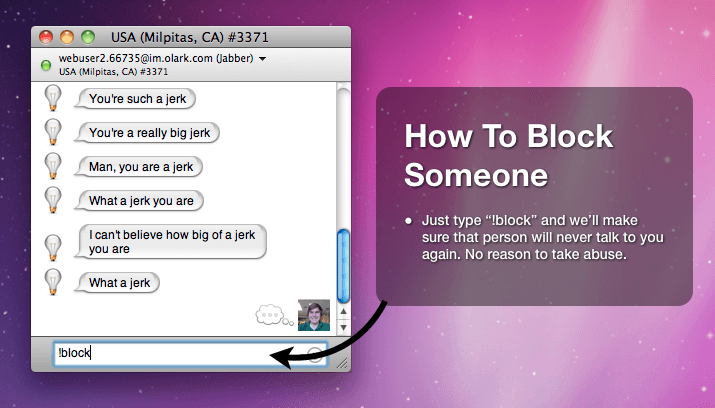 Related articles