There are some jobs only a person can do.
For everything else, there's CoPilot from Olark.
Your chat team doesn't need to go full robot.
Think of CoPilot as a helpful assistant clearing the basics off your plate.
Hands-free take-off and landing
Instantly greet your visitors with a friendly "hi, how may I help you" and speed up your reply times. Wrap up with a 1-click "is there anything else I can help you with today?" and send visitors on their way with a smile.
Point them in the right direction
Have CoPilot ask questions to make sure your visitor gets routed to the person who can help them best. Perfect for teams with specialized roles, multiple departments, or dedicated account reps.
Cut down on FAQs
Sometimes the information your visitors need is tricky to find. Other times, they just don't look very hard. Either way, you can train CoPilot to address your most common questions without tying up a live agent in every chat, and your customer gets what they need without playing hide-and-seek.
Who's flying this plane, anyway?
CoPilot doesn't replace your agent, it assists them. If it gets stuck, it calls for help. When your agents are free to take over, they can grab the wheel and own the conversation. This is a chatbot that keeps your people in control.
Fly to new heights with CoPilot
Level up your agents. Help customers faster. Scale your efforts.
Getting started with CoPilot:
We'll schedule a 1:1 demo of CoPilot.
During this call, you'll tell us about your chat team and what you want to automate, and we'll decide together if you're a good fit for CoPilot's beta.
If you qualify for the beta, you'll meet with CoPilot's engineers so we can customize your bots.
You'll define the rules for your bots, and we'll build them into CoPilot for your team. If you're a paying Olark customer, we don't charge extra for building these bots for you. (Some conditions apply.)
We'll launch your CoPilot and you'll share your feedback. If need be, we can modify your bots along the way.
No need to build your bots.
We'll do it for you (for free!)
You'll get to shape the product from the beginning.
Grandfathered pricing if you upgrade to Olark Pro.
What makes CoPilot different from other chatbots?
Benefit right away
Other chatbots require historical data and weeks of model-training that slow you way down before you can even get started.
Custom-built
It's rare for an off-the-rack solution to work perfectly for your case. We build bots for *your* unique workflow.
Easy to take over
CoPilot knows when to call for help and is easy to interrupt. Your agents are always in control.
Will CoPilot meet my security and accessibility requirements?
We designed CoPilot to address the advanced needs of public institutions like government agencies and big universities. We've got you covered:
Accessibility
WCAG 2.0 Level AA
Visitor Privacy
GDPR-ready
California-specific Privacy
CCPA-ready
Security
NIST 800-53 compliant
Most CoPilot customers go live
within 48 hours of their demo.
Will CoPilot play nice with my other tools?
You bet. CoPilot was built to support Olark's famously broad selection of integrations, including: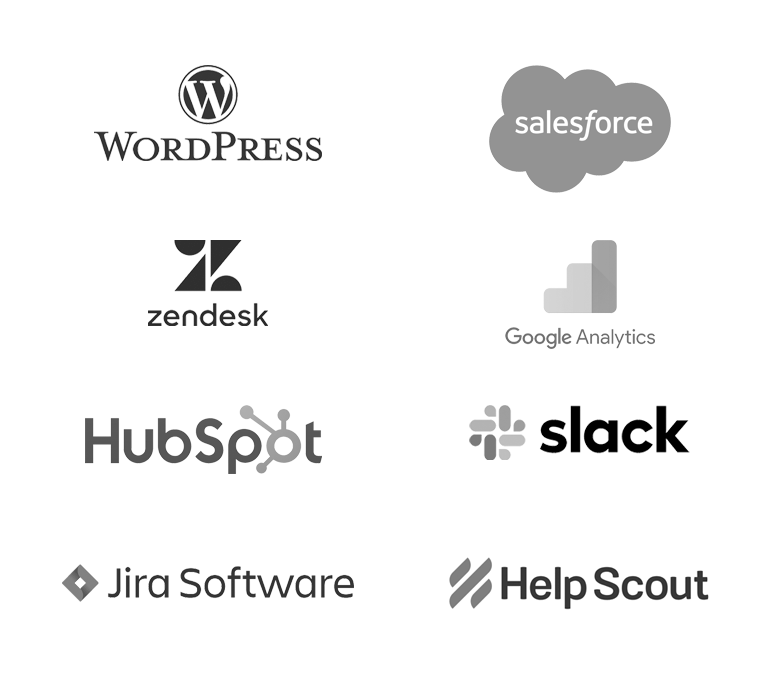 Are you ready for takeoff?
Request a demo of CoPilot and give your agents superpowers.